MH6100B Military Thermal Camera Binocular
---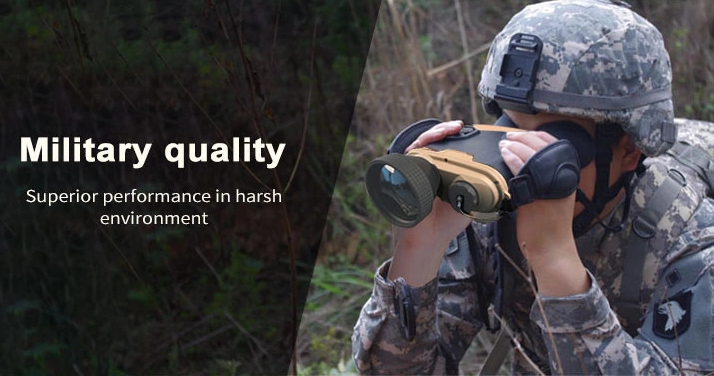 MH6100B thermal binoculars is the next generation thermal bincoculars,take high-tech thermal imaging surveillance up more than just a notch.
Advantages:
1) Detecting heat signatures up to 3500m away in daylight and complete darkness, the MH6100B displays clear thermal images from a 640x480 resolution, 17µm pixel pitch core
2) An OLED display which operates flawlessly in extreme weather and temperature conditions.
3) A 50 Hz refresh rate ensures that object movement is smooth, stable and displayed in real time.
4) All objects in the 8.8 degrees field of view have the higher level of detail and the variable
5) 1x,2x to 4xdigital zoom functionsadjusts from close quarters to long-range viewing whether you're hunting, conducting surveillance or just simply viewing wildlife.
Eight custom color modes ensure clear object distinction in virtually any condition. "White hot", "black hot", red monochrome, sepia, "red hot", rainbow, violet and "ultramarine" enhances viewing and helps you identify targets quickly.
6) The Accolade's dual eyepieces is optimized to give you the very best viewing display in thermal imaging improving comfort for longer, eliminating double-imaging and providing a truer-to-life picture.
7) Take pictures or record video with one press of a digital button capturing your observation of a lifetime.
FEATURES

➢ 640x480 resolution, 17µm pixel pitch
➢ 3500-meter detection range
➢ High resolution 640x480 OLED display
➢ 1x,2x,4x digital zoom functions
➢ 6-hour rechargeable battery pack
➢ custom color modes
➢ 8.8 degrees field of view
➢ 50Hz refresh rate
➢ IP66 fully waterproof rated
➢ Image optimization observation modes

MH6100 Thermal Binocular Camera is rugged lightweight infrared binocular system that uses the latest in low-power, compact, un-cooled thermal imaging technology. It used a 640x480 un-cooled thermal sensor with 50mm, 75mm and 100mm lens for middle or long distance application. The unique power save design can last battery operation time with fast startup and autofocus ability. Unlike image intensification night-vision devices that only magnify existing light, thermal imaging cuts through darkness, through smoke, dust and most fogs.
SPECIFICATIONS:
Uncooled IR Main Spec
Detector Type: Un-cooled Microbolometer
Spectral Range: 8 ~ 14μm
This affordable product can be widely applications:
· Operations
· Border security
· Commercial and perimeter security
· Man-portable or multifunction surveillance
Ower Consumption
Power Supply: 7.4V 20Wh
Power Dissipation: Less than 3.0W(Not Recording Mode)
Battery Type: F570 (or 2*18650) Lithium ion
Operating Hours: More than 6 hours
Environment
Operating Temperature: -30°C ~ +55°C
Storage Temperature: -40°C ~ +60°C
Protect standard: IP 66
Mechanical
Weight: < 1.4kg (exclude battery)
Dimension(mm): 220(L)/165(W)*85(H) MAX
Mount Adaptor: Standard tripod mounting
Housing: Full of Aluminum alloy
Array Format:

640 x 480

Pixel Size (Pitch):

17μm

Frame Rate:

50Hz(PAL)

NETD(Typical):

< 60mk

Continuous

Operation Time:

≥ 6 Hours

Contrast/Brightness:

Adjustment Availabl

e (Manual or Auto)

E-Zoom:

2, 4

Optical Spec

Focal Length:

100mm

F#:

1.2

Field of View:

8.8°×6.6°

Focus:

Motorize

Environment

Working temperature

-10℃ to 50℃

Storage temperature

-20℃ to 60℃

Protection level

IP66

Range Performance

Persons

(Standing man)

Object Detection:

2500m

Object Recognition:

1000m

Vehicle (NATO Tank)

2.3m×2.3m

Object Detection:

3500m

Object Recognition:

1500m

Digital Video Recorder

Video format:

MPEG4

Storage capacity:

16Gb

Recording Time:

>8hours

Output Interface

Analog

Video

BNC

Digital

Video

Storage

USB 2.0

Display Spec

Type of Viewfinder:

800X600 0.6''OLED

Phasical spec

Size

260*170*90mm(L*W*H)

Net weight

1000g(excluding battery)
---
Request A quick Quote (WhatsApp:+ 86-18792456795)
---