Vehicle photoelectric system
---
1. Laser warning equipment
Laser alarm is a photoelectric reconnaissance equipment used for laser threat signal interception, measurement, identification and real-time warning. Usually loaded on aircraft, ships, tanks, or installed on key targets on the ground, real-time detection, identification and warning of laser signals from laser-guided weapons, so that the protected object can take countermeasures such as evasive action or release interference in time.

Item

Range

Power adaption range

DC 18V~30V

(With reverse connection protection function)

Information interface form

CAN bus, 2 pcs

422 bus, 2 pcs

Weight

3kg (weight of two devices, excluding cables)

Detection wavelength

0.9μm―1.7μm

Identify the object

Ranging laser, semi-active guidance laser, beam driving guidance laser

Security airspace

Horizontal: 360°

Pitch: Upper zone +50°~+80°

Lower zone -10°~+50°

Continuous working time

≥12h

Anti-interference ability

Able to resist sunlight saturation and flash interference
2. General Thermal Image Pilot
The universal thermal imaging driver is an observation device composed of an infrared camera system outside the vehicle, an in-vehicle display system, cables and related accessories in order to improve the night driving ability of military vehicles. The driver can observe the real-time situation of the battlefield and on the move through the display , Improve the safety of driving and the concealment of marching.

Field of view

Not less than 36°x 27°

Recognition distance

Not less than 100 meters

Input voltage

16~32V;

Protection level

IP67;

Maximum dimension of infrared camera system outside vehicle:

φ150mm x 230mm;

Maximum external dimensions of the in-vehicle display system:

280mm x160mm x 80mm;

weight:

<4.5kg(Camera and display)

Detector performance parameters

a. Spectral range:

8µm~14µm

b. Detector type:

Uncooled vanadium oxide focal plane arrays

c. Pixel:

384 x 288

d. Pixel size:

20μm

e. Video signal:

PAL standard video signal

Display performance parameters

a. Display specifications:

8-inch color TFT display

b. LCD screen resolution:

800 x 480
3. General purpose 12.7 mm machine gun vehicle internal operation and aiming system
The general-purpose 12.7 mm machine gun vehicle internal operation and aiming system is a new remote control auxiliary weapon system which installed the original qjc88 12.7mm gun after some structural improvement, and installed with electronic sight glass, and installed on the top of various combat equipment, and added display control unit and other equipment inside the combat equipment to conduct in vehicle operation and aiming control.
The weapon system has the characteristics of light weight, less space occupation and significantly enhancing the survival capacity of members. The system can be equipped with self-propelled artillery, tank, armored vehicle, riot truck, patrol vehicle, small warship and other weapon platforms. The shooter can aim and shoot ground targets and suppress fire through the operation handle high and low, pitch and rotate the gun tower in the cabin, and also can enter the air target Strike. At the same time, the electronic sight glass is equipped with picardini guide rail, which can be equipped with various advanced photoelectric equipment such as large field of view electronic sight, infrared sight glass and laser ranging.

Composition of operation and aiming control system of 12.7mm machine gun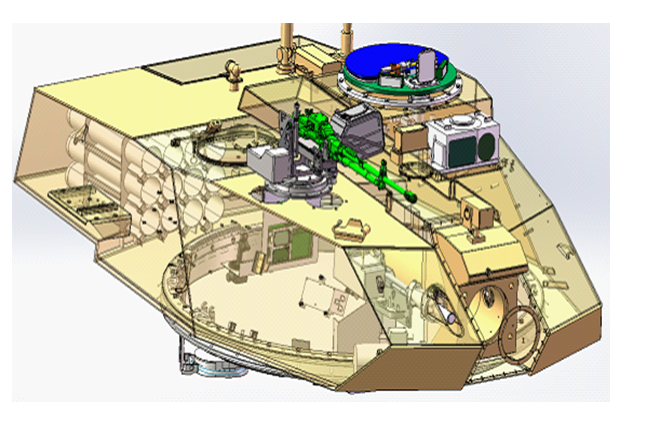 Rotary 12.7 machine gun firepower system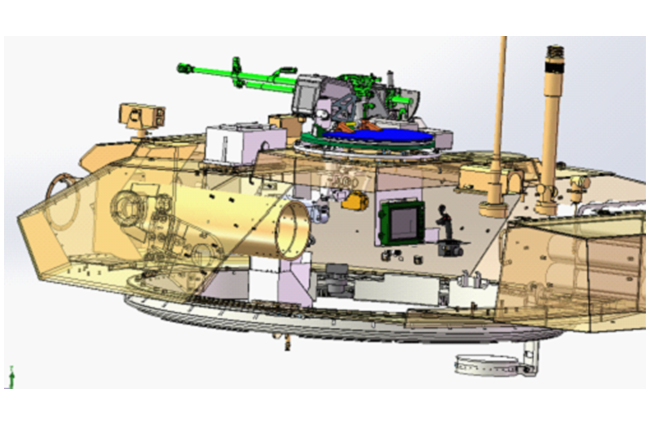 Display and aiming system
(1) Total weight:

≤135kg

(2) Outside dimensions:

Length ≤1615mm (to the front end of the muzzle)

Width≤690mm (including bullet chain box)

Height≤450mm (the lower plane of the seat ring to the top of the open bolt handle)

(3) Shooting range:

High low range - 4.5 °~ + 70 °

Directional range - 170 ° to + 170 degree

(4) Shooting mode:

Point and continuous shot

(5) Ammunition carrying capacity:

60 rounds (1 bullet box)

(6) Speed of gun direction adjustment:

Maximum gun speed: ≥35˚/s

Minimum gun adjustment speed: ≤0.1˚/s

(7)High and low direction gun speed: Maximum gun speed:

Maximum gun speed: ≥20˚/s

Minimum gun adjustment speed: ≤0.1˚/s

(8)Field of view of electronic sight:

4.1˚x 2.3˚(f=75mm)

(9) Range of electronic differentiation table:

0m~1500m

(10) System shooting accuracy:

aim at the rectangular center of height 100 cm x width 80 cm, burst 10 rounds into 7 rounds, and R50 ≤ 30 cm (100-meter burst accuracy)

(11) Power supply:

DC24V±6V

(12) Power consumption:

≤0.8kW

Rotary gun tower parameters

(1) Caliber:

12.7mm

(2) Weight:

≤120kg

(3) Matched ammunition:

54 type 12.7mm standard bullet

(4) Fire wire height:

≤330mm (the lower plane of the seat ring to the barrel axis)

(5) Type of firing:

Electric shock

(6) Unbolt method:

Unbolt with steel rope inside the vehicle

(7) Power supply voltage:

DC24V±6V

(8) Power consumption:

≤0.6kW

(9)Other performance indicators of the turret are the same as the original QJC88 type 12.7 machine gun.

Display control system parameters

(1) Weight (including mounting bracket and cable):

≤15kg

(2) Overall dimensions of the display and control unit:

385 mm x 255 mm x 100 mm

(3) The overall dimensions of the control handle:

230 mm x 150 mm x 150 mm

(4) Dimension of electronic sight:

155mm x110mm x 80mm

(5) Power supply:

DC24V±6V (vehicle power supply)

(6) Power consumption:

≤0.15kW
---
Request A quick Quote (WhatsApp:+ 86-18792456795)
---