MH-CR Series Gen3 Night Vision Weapon Sight
---
Pls click or email to
mh_elec@126.comorjacky@mh-elec.com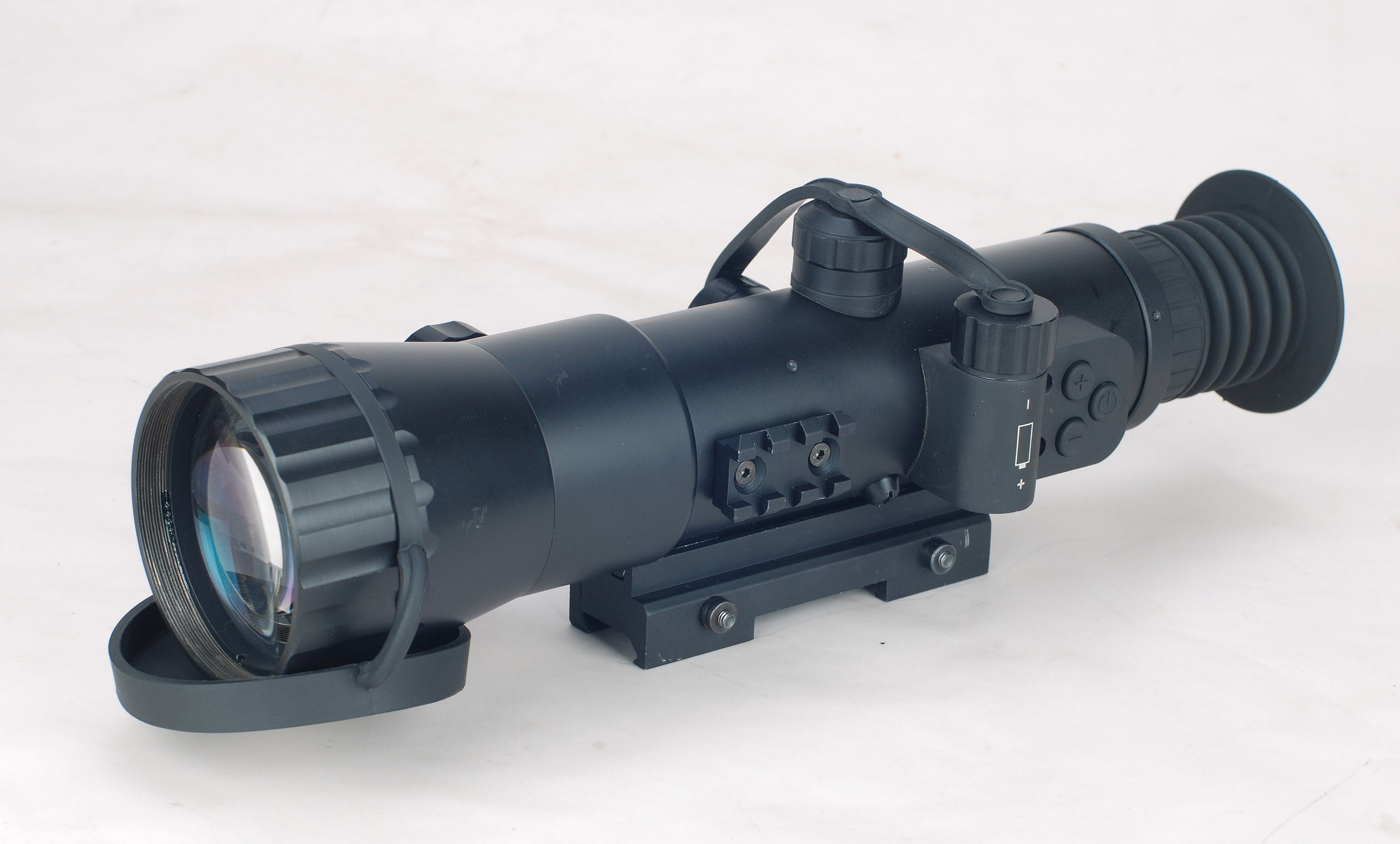 MH-CR Series Night Vision Weapon Sight use high
performance Gen3 image intensifier tubes,which largely improves observation definition and extend your distance up to 450-700m.As long as the luminance is up to 0.001 Lux, you can engage in snipe all kinds of target in the wild at night.

Furthermore, this scope has the function of anti-glare, that is, it can be auto off when it aims at the strong light suddenly. And fits for city battle. It also matched with infrared equipment for compensating the brightness, which makes the military battle possible at different condition. Besides, it fits for international common standard picantiny rail, and it can be used for 7.62mm and 5.8mm snipe rifle respectively with mount rail systems.
FEATURES
superior for long range shooting
lightweight
internal-lit mil-dot illuminated red-on-green or yellow on-green reticle with adjustable brightness
top mounted internal front lens focus adjustment
precision internal wind-age/elevation Adjustment(1cl=10mm/m)
shockproof,can be used with heavy recoil(375 H&H,416 RIGBY,50 CAL)weapons
standard weaver MIL-STP-1913 rail mount systtem
80% of value based on US made components and technology
automatic brightness control
protected against excess light exposure
easy to operste
photo/video equipment adaptable
rifle's zero adjustment is not required when change the type weapon
built-in hight power(75MW)IR illuminator with adjustable power level
water resistance
Specification

Gen3

Model

MH-CR540

MH-CR760

MH-CR880

Magnification

4x

6x

8x

Field of view

12º

10º

8º

Lens system

80mm

F/1.4

118mm

F/1.5

156mm

F/1.6

Focus range

10m to infinity

10m to infinity

10mm to infinity

Eye relief distance

45mm

Diopter setting,D

+3,-4

Overall dimensions

28

0x95x82mm

280

x95x82mm

280

x95x82mm

Weight

1030g

1300g

1350g

Power supply

1CR123 battery,3V

Estimated battery life

up to 60 hours

Image Intensifier Tubes

Classification

OMNI II

Photocathode type

18mm S-25

Photocathode sensitivity

≥550μA/lm

Resolution

57-64lp/mm

Luminous gain

19000-25000fl/fcd

Signal-to-noise ratio

20:1 or better

FOM

≥1150

Tube reliability standard

10000 hours

Keep time

10 years

Warranty

Oneyear

Effective Distance

Detection range

200-350m

Recognition range

180-220m

5mW IR illuminator

up to 100m

Environment Data

Operating temperature

-35℃to+50℃

Storage temperature

-35℃to+70℃

Humidity

up to 98%
---
Request A quick Quote (WhatsApp:+ 86-18792456795)
---