MH-M670 Military Thermal Imaging Monocular
---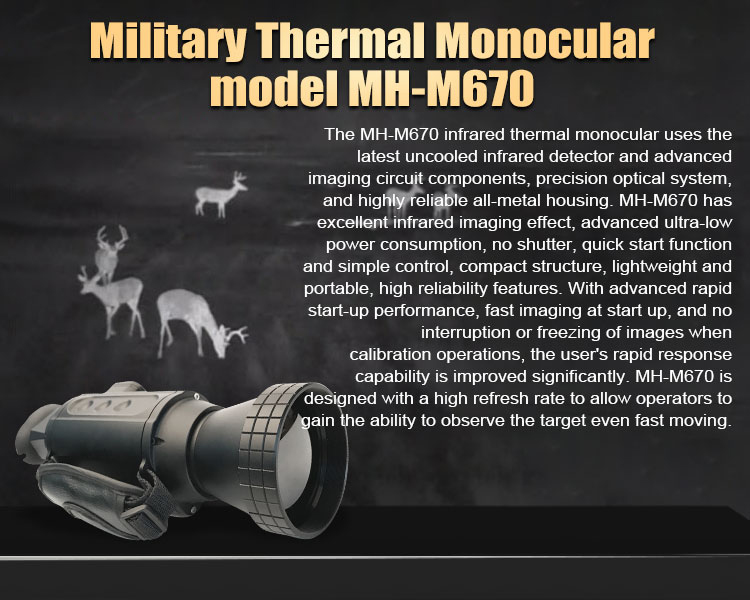 Description
MH-M670 Thermal Monocular features an advanced OLED display (640×480 pixels) and a high resolution microbolometer sensor (640×480 pixels) with different color palette modes for optimal viewing in a variety of scenarios.is extremelyMH-M670is lightweight and weather resistant, able to withstand harsh environments and varying conditions.
Users have the ability to switch between "white hot" and "black hot," making targets distinctly visible over 2,000 meters away.
MH Thermal Monocular offers 2x and 4x digital zoom functions. The digital zoom function not only provides the advantage of viewing long distance targets, but also closer targets in greater detail.
Featuring a 50 hertz frame rate (higher than most on the market) for a crisp, consistent image of fast-moving objects,MH-M670Thermal Monocular is engineered to track targets quickly and easily.
Ideal uses for the new thermals include fugitive searches, surveillance activities, accident investigation, locating evidence, search and rescue, marine patrol, scouting, hunting, tracking and recovering game, wildlife observation, and surveillance.
Features:
➢640×480 resolution
➢70mm focus lens
➢50hz refresh rate
➢2x and 4x digital zoom
➢Over 3,000 meters detection range
➢White hot /black hot viewing modes
➢Display off function to save battery life
➢High resolution 640x480 OLED display
➢Brightness and contrast adjustments
➢Wifi connected your phoneandVideo output
1.
Main Parameter

Model

MH-M670

Detector type

Uncooled microbolometer

Thermal sensor

resolution

640x480 px, 17μm

Spectral range

8~14μm

Frame rate

50Hz

NETD

<60mK@300k(F#1.0)

Micro dispaly

0.6 inch 800×600 OLED

Image Processing

E-Zoom

2×/4×

Image adjustment

White hot/Black hot/Colour

Optical Parameter

Focal Length

70mm

Focus

Manual focus

F#

1.0

Foucs range

5m~∞

Field of View

8.8°×6.6°(H×V)

WIFI YES

Video Recording and Storage

Photo Snap

Yes

Video Recording

Yes

Video storage

built-in 16Gb;

Video output

Analog :BNC Digital:USB2.0

Observation Distance

Persons
(Standing man)

Detection:2.0k

Recognition:1.0km

Vehicle

(NATO Tank)

Detection:4.0km

Recognition:1.6km

Power Parameter

Power

Rechargeable lithiu

battery, 7.2V/2000mAH

Power

consumption

<3.0W(@25℃)

Operating hours

Continuou

s working time:≥4hours

Environmental parameters

Seal standard

IP67

Operating
Temperature

-

30°C~+60°C

Storage
Temperature

-40°C~+70°C

Humidity

5%~95%( Non-condensing)

Vibration

Sweep frequency:5-200-5Hz,G-force:10g

Impact

10g/11ms Half sine wave

Physical parameters

Product Weight

<900g(includ Battery)

Dimension (mm)

240×80×80mm

Mount Adaptor

Standard 1/4' tripod mounting
Send inquiry to mh_elec@126.com
---
Request A quick Quote (WhatsApp:+ 86-18792456795)
---