Strain Measurement for Sheet Metal Forming
---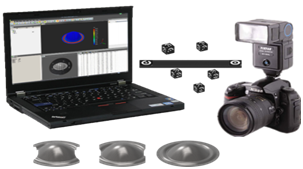 MHSM Strain Measurement for Sheet Metal Forming
To improve efficiency and automation of the 3D full-field surface strain measurement for sheet metal forming, a new grid strain measuring scheme was developed based on the close-range photogrammetry technology. XTSM system defines a non-contact means of measurement for forming limit. With integrated use of digital image processing on square grid images, the sheet metal forming strain measurement system can get precise extraction of coordinate of grid nodes automatically.
Fields of Application
1) Strain measurement of material deformation, forming limit calculation
2)Measuring the critical deformation parts and solving the complex problem of forming
3)Stamping process optimization and stamping mold inspection.
4)Verifying and optimizing the results of simulation calculation.
5)Enhancing the users' understanding of the forming process of plate in the phase of product development.
6)Improving the efficiency and accuracy of CAE system of the model by a fast analysis of the 3D sheet metal deformation, to convert the traditional open-loop CAE system to a closed loop CAE system.
Technological Advantage
1)Based on the core technology of industrial close range photogrammetry, it is independently developed.
2)Non-contact measurement to avoid human error and tedious manual measurement, simple operation and portability.
3)Combination of SLR cameras and industrial cameras of a variety of frame rates or various resolutions, meeting different needs and measurement formats.
4)A large amount of data, a fast and efficient 3D reconstruction, coordinates transformation and obtaining deformation data on material surface.
5)Point cloud fitting functions including points, lines, polygons, circles, ellipses, spheres, rectangular holes, cylinders, cones, etc.
6)The automatic calculation of the forming limit diagram and the measurement results show calculation of the material forming limit three-dimensionally.
7)The calculation of the thickness reduction rate of the material.
Practical Value
MHSM system defines a non-contact means of measurement for forming limit. It uses high-resolution digital SLR cameras to get pictures from different angles and camera stations. The three-dimensional coordinates and strain can be calculated automatically after the MHSM system is imported. The results of strain distribution and thickness variation are displayed in chromatogram on the three-dimensional model on the molded parts. By operations like the usual rotation, the measurement results and the forming process can be better understood. Hence, human operator errors resulted from manual measurement can be avoided and the measurement is of high speed and precision.
The system can process more than 100,000 points of data simultaneously. Compared with traditional measurement methods, the amount of data for measurement is larger, which is of significant importance for forming limit research on large-sized sheet materials.
Experimental Verification

Experimental Verification
---
Request A quick Quote (WhatsApp:+ 86-18792456795)
---