---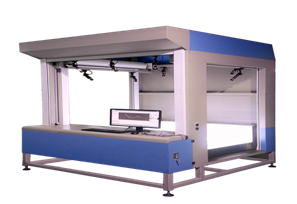 MH Optical Three-dimensional Tube Scanner
As an optical 3D tube measuring tool, this scanner can measure formed tubes precisely. The brand new is able to calculate setup and correctional data for bending machines and thereby allows an efficient quality assurance under production. The latest tube scanner can be used in almost all sectors of industrial piping production. Typical applications are the measurement of brake- and fuel pipes, shape control of synthetic pipes and free-form measurement of wire parts.
Fields of Application
1)Automotive industry, ship, aerospace, nuclear power and other fields.
2)Inspection of oil, gas, water pipes.
3)On-line inspection.
4)Analysis of bending points and angles.
5)Verification of Finite Element Analysis (FEA).
6)Tube molding process optimization.
Technological Advantage
1)The only-industrialized independently-developed pipeline measuring system in China
2)Non-contact scanning. High speed (less than two seconds) and efficiency.
3)Independently-developed space multi-camera calibration technology, customized measurement format (size of testing machine): 1m~8m
4)One complete measurement of several tubes
5)Top-speed, high-precision and easy camera calibration
6)Cross tubes measurement, irregular pipe tubes measurement.
7)Open interfaces, customized output of data results, easy and quick interaction with external hardware feedback.
8)Scientific data management system, data can be quickly carried out, and computed repetitively.
9)Multi-mode 3D display of test results
Practical Value
FIG. Tube Measuring Scene

FIG. Test Results of Tubes

Principles of Measurement
Based on the industrial close-range photogrammetry measuring principles, MHBUBESCAN on-line inspection system uses multiple fixed-position industry cameras to quickly rebuild a 3D digital model of tubes within two seconds by capturing multiple 2D images, ensuring one complete measurement of several tubes. The MHBUBESCAN can repeatedly calculate and retrieve. 3D reconstruction data is stable and accurate. The system can calibrate the development of interfaces, thus it is portable and easy to operate.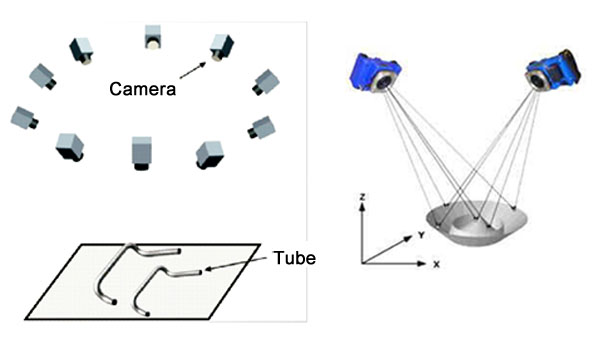 ---
Request A quick Quote (WhatsApp:+ 86-18792456795)
---