---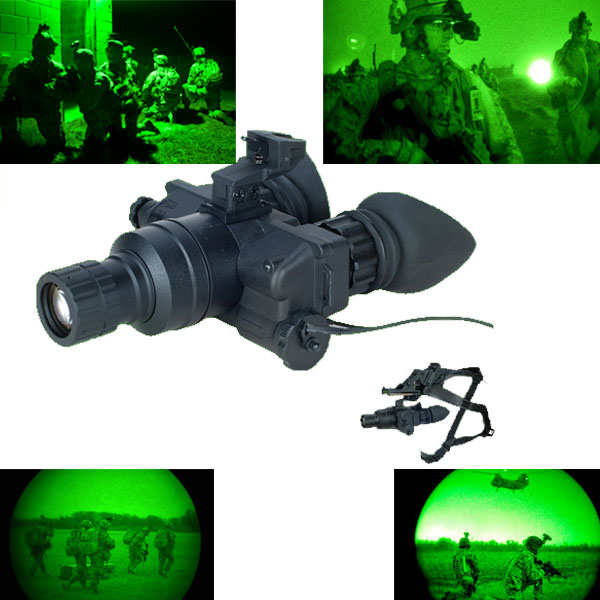 DESCRIPTION OF NIGHT VISION GOGGLES

Image Intensifier Tube –Generation 2+ or Europe Generation 3, power supply with built-in bright flash protection (with automatic brightness gain regular.)

(MH-NVGs)is a kind of night vision goggles which can be viewed by two eyes and can be mounted with helmet,small in size,light in weight. Magnification can be changed by replacing different objective lens, 1x and 3x and 5x are available.Other objective lens with different focal distance can be also provided to meet your needs.It also can be used as hand held for observation in the night.

It adopts Russian Gen2+ or Europe Gen3 image intensifier tube with the function of anti-glare and built-in IR Illuminator. It is mainly used for observation,sea defense,frontier reconnaissance,surveillance, suppress smuggling, drug smuggling investigation and vehicles and aircraft maintenance under dark condition etc.).
KEY FEATURES
+Small in size, compact rugged Goggle system
+Multi-purpose: Hand-held, head-mounted or helmet mounted
+Comfortable, flip-up headgear,reliable and
+Multi-coated all-glass optics,superior resolution
+Wide angle infrared illuminator,long range viewing
+Optional 3x, 5x and 8x lenses available
+Waterproof Weather and fog resistant
+Limited one-Year Warranty
Specification of Gen3 night vision goggles

Specification

Model

MH-NVGs

Magnification

1x

Lens system

26.8mm, F/1.2

FOV (Degree)

40

Focus range, m

0.25 to infinity

Adjusted interpupillary distance

Yes

Eye relief distance,mm

15

Detection range

220-300m

Power supply

1CR123A type battery, 3V

Diopter setting, D

+5, -6

Dimension, mm

160x150x75mm

Weight

500g

Image Intensifier Tube






Environmental Data

Operating temp.

-40℃to + 50℃

Humidity, %

at 25℃up to 98%

Shock resistance

5g

IP Level

IPX4

IR-ON indicator

Yes
Specification of Gen3 night vision goggles

Specification

Model

MH-NVGs

Magnification

3.5x

Lens system

80mm, F/1.57

FOV (Degree)

14

Focus range, m

10m to infinity

Adjusted interpupillary distance

Yes

Eye relief distance,mm

15

Detection range

400-500m

Power supply

1CR123A type battery, 3V

Diopter setting, D

+5, -6

Dimension, mm

212*150*75mm

Weight

700g

Image Intensifier Tube






Environmental Data

Operating temp.

-40℃to + 50℃

Humidity, %

at 25℃up to 98%

Shock resistance

5g

IP Level

IPX4

IR-ON indicator

Yes
---
Request A quick Quote (WhatsApp:+ 86-18792456795)
---